Our Business
GoCheap Motorhomes & Campervans is Tasmanian owned and operated. We have considerable experienced in our field and have operated a motorhome and campervan rental company in Australia since 1999. During this time we have developed a good understanding of how to meet your needs.
GoCheap Campervans aim to provide the most affordable motorhomes and campervans in Australia to enable your money to stretch further when holidaying and taking a well needed break.
Enjoy your next holiday with a GoCheap Campervan Hire Australia.
Our Motorhomes and Campervans
Our fleet includes reliable Toyota, Fiat and VW vehicles, ranging from comfortable campervans for two people up to six-berth luxury motorhomes.
Our motorhomes and campervans are kept in good condition, are well maintained and equipped with everything you need. They are professionally cleaned after each use and regularly serviced to maximise your comfort as you travel. We also have a range of extra hire options that you may choose to take with you including a GPS satellite navigation, fan heater, table and chair setting and ice cooler.
Your rental includes unlimited kilometres and you are free to drive your campervan on sealed roads anywhere in Tasmania.
To give you peace of mind when travelling, GoCheap Motorhomes & Campervans are covered by RACT Roadside Assistance 24 hours a day 7 days a week.
Campervans For Hire In Australia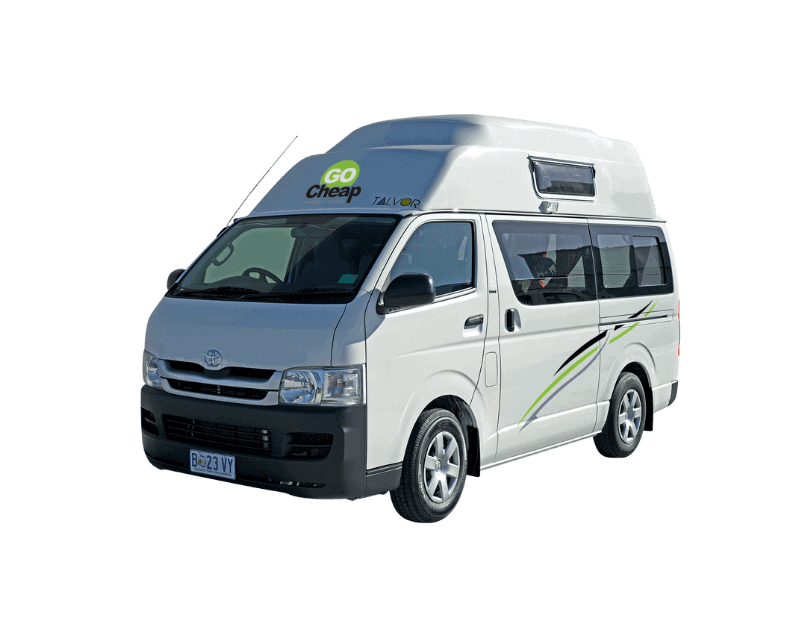 2-3 Berth HiTop Campervan
Vehicle make 2010 onwards
Spacious double bed
Fully equipped kitchen including utensils, fridge, microwave & gas stove
Bedding, linen, pillow & towels
2 Berth Picton Campervan
Spacious Double Bed Over The Driver's Cabin
Fully Equipped Kitchen Including Utensils, Fridge, Microwave, Gas Stove & Sink
Toilet & Shower With Hot & Cold Water Supply
Television, Bedding, Linen, Pillows, and Towels Provided
2 Berth Tamar Campervan
Spacious Double Bed
Fully Equipped Kitchen With Utensils, Fridge, Microwave, Gas Stove & Sink
Toilet & Shower With Hot & Cold Water Supply
Television, Bedding, Linen, & Towels Provided
4 Berth Henty Campervan
Two Spacious Double Beds
Fully Equipped Kitchen With Utensils, Fridge, Microwave, Gas Stove & Sink
Toilet & Shower With Hot & Cold Water Supply
Television, Towels, Bedding & Linen Provided
6 Berth Derwent Campervan
Three Spacious Double Beds
Two Dining / Living Areas
Fully Equipped Kitchen With Utensils, Fridge, Microwave, Gas Stove, & Sink
Toilet & Shower With Hot & Cold Water Supply